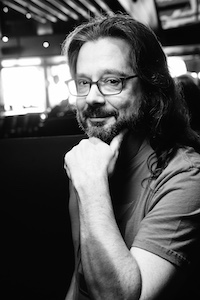 Hi! I'm Watts Martin (sometimes "Chipotle"), and Coyote Tracks is my sporadically-updated web site.
Who?
I'm a science fiction/fantasy author and a technical writer. A few years ago I was known for being a technical blogger, too, on a previous incarnation of Coyote Tracks at Tumblr. Now I microblog at Coyote Cartography, although my posts tend to be a hodgepodge of Twitter-like status updates, the occasional photo, and the even more occasional actual article. (You can read a "just the articles" version of Coyote Cartography by visiting the Article category page.)
My fiction
Some highlights:
Here on Coyote Tracks, you can read:
My technical writing
I've worked in the past for RethinkDB, Realm, and Cisco Systems, among other companies. Currently, I'm at Viv Labs, an independent division of Samsung that does AI and voice assistant work. (Yes, Bixby. It's good.)
If you're interested in more of my professional side, read my work history.
Other links
Social media