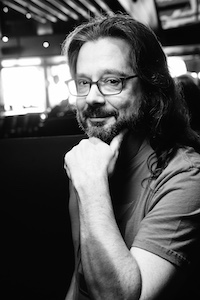 Hi! I'm Watts Martin (sometimes "Chipotle"), and Coyote Tracks is my sporadically-updated web site.
Who?
I'm a science fiction/fantasy author and a technical writer. A few years ago I was known for being a technical blogger, too. More recently I've been "microblogging" with a hodgepodge of Twitter-like status updates, the occasional photo, and sometimes actual articles.
My fiction
Some highlights:
Here on Coyote Tracks, you can read a collection of short stories, mostly from various anthology appearances over the years. (You can find links to the actual anthologies, if they're still available, on the works for sale page.)
My technical writing
I've worked in the past for RethinkDB, Realm, and Cisco Systems, among other companies. Currently, I'm at Samsung's Bixby Labs, part of Samsung Research America. (Bixby is that voice assistant that's actually better than you're giving it credit for.)
If you're interested in more of my professional side, read my work history.
Other links
Social media