Works for sale
These are links to commercially-available works. I have other work available for free. All my ebooks are DRM-free when possible.
Kismet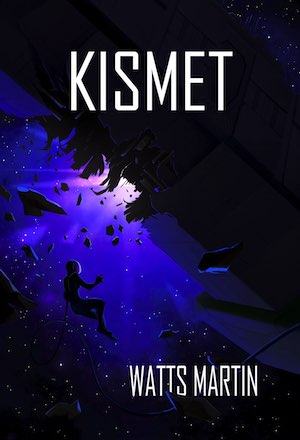 The River: a hodgepodge of arcologies and platforms in a band around Ceres full of dreamers, utopians, corporatists and transformed humans, from those with simple biomods to the exotic alien xenos and the totemics, remade with animal aspects. Gail Simmons, an itinerant salvor living aboard her ship Kismet, has docked everywhere totemics like her are welcome…and a few places they're not.
But when she's accused of stealing a databox from a mysterious wreck, Gail lands in the crosshairs of corporations, governments and anti-totemic terrorists. Finding the real thieves is the easy part. To get her life back, Gail will have to face her past—and what's at stake may be more than just her future.
Kismet won the Cóyotl Award for best novel in 2017, as well as a Leo Award for best novel.
"It's a fun, action-filled story set against a fascinating and well-realized background, and Gail is as smart and feisty as a C. J. Cherryh heroine. Below the surface, there's enough social commentary to make for a fairly complex morality tale, with plenty of echoes of today's world." — Don Sakers, Analog Science Fiction
"A solid space thriller set in an intriguing environment." — Cat Rambo, The Green Man Review
"A fast-moving, fun, tense, exciting, high-stakes space adventure that is, at the same time, about queer furries and the politics of oppression. An excellent story." — Mike Reeves-McMillan, The Review Curmudgeon
"The best anthropomorphic science fiction should challenge how we think. Kismet is that book for 2017." — Lawrence M. Schoen, author of Barsk: the Elephants' Graveyard (Cóyotl winner, Nebula nominee)
"An instant classic with a gripping plot and character you continue to care about long after you turn the final page." — Ryan Campbell, Cóyotl-winning author of God of Clay and Koa of the Drowned Kingdom
"Taut, superior science-fiction with engaging characters." — Fred Patten, SF reviewer/historian
The ebook version of Kismet is only $5.99.
Going Concerns
People from across the empire come to the cosmopolitan city-state of Raneadhros to find new lives. After fleeing a past employer she's sure tried to have her killed, though, Ann Swift's having trouble starting over: when you're a six-foot-six wolf woman, it's hard to convince people you just want a quiet job as an accountant. When Gibson Scava, a brash feline detective investigating the very employer she's trying to get away from, barges into her life to get her to work a case with him, it gets even harder.
As assassins show up at her doorstep and the Ranean Guard takes a dim view of her "interference," Ann needs to decide just much she can trust the flirtatious Gibson—and just how much she's willing to embrace the Big Bad Wolf stereotype she's been fighting against her whole life.
Set in a world of Victorian engineering, low magic, and human and animal races, this mystery/comedy in the vein of Moonlighting was nominated for a Cóyotl Award when it appeared as part of the Five Fortunes anthology. It's now available as a 99¢ ebook.
"Captivating, entertaining, excellent characters, with both fun and horrifying interplay." — Altivo Overo (Goodreads review)
Buy now at Bad Dog Books or Amazon.
Indigo Rain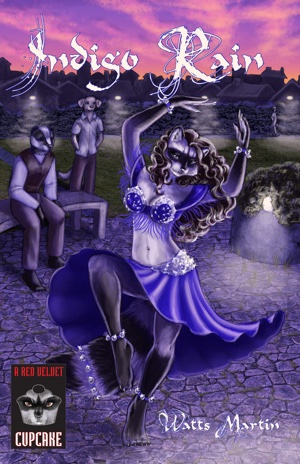 Roulette, a young raccoon dancer, dreams of moving to Ranea's capital city-state and marrying into a better life. But a horrifying encounter plunges her into a momentous political struggle—one that will turn tragically violent unless she and her newfound companions can expose the mysterious "Brothers of Atasos."
And as if things weren't getting complicated enough for her, Roulette may be falling in love with an activist who's as far from her dream husband as she could possibly get…
Indigo Rain won the Cóyotl Award for best novella and was nominated for the Ursa Major Award in 2013.
Why Coyotes Howl
A collection of sixteen of my stories assembled from various small press outlets, revised from their original appearances, and joining a few new ones. They include the hard sf story "Only With Thine Eyes," fan favorite romance "Travelling Music," and the shape-shifting title tale.
Why Coyotes Howl was nominated for an Ursa Major Award.
Anthology appearances
The Rabbit Dies First is an anthology that came about when the editor, Ryan Campbell, and his husband half-joked that when you see a rabbit in a movie, it's usually about to die. The anthology has stories from Mary E. Lowd, Kyell Gold, David Green, Franklin Leo, and ten other authors. My story, "An Orange by Any Other Name," is a new story about Fixer, the eponymous protagonist of my earlier contribution to the noir anthology Inhuman Acts. Not all of the stories are as morbid as the theme suggests, but mine is.
ROAR 9 is the ninth volume of an annual themed anthology edited by Mary E. Lowd; the theme for that year (2018) was "Resistance." Contributors to this volume include Ryan Campbell, Amy Fontaine, Bill Kieffer, K.C. Alpinus, and eleven others. My story, "Saguaros," is a magical realism piece. It's short, but I'm pretty proud of it.
Inhuman Acts is a noir collection, with anthropomorphic stories ranging from dark to relatively light, but mostly dark. Contributors include Mary E. Lowd (Otters in Space), Alice Dryden, Bill Kieffer and more, thirteen stories in total. I contributed a Florida period piece—that period being the 1970s—called "Fixer." Inhuman Acts won the Best Anthology Cóyotl Award.
The Furry Future is an anthology of (surprise) science fiction stories with anthropomorphic animal characters, presenting very different interpretations of just what that means. My contribution is "Tow," a prequel story to my novel Kismet, and Teagan Gavet's cover artwork for the anthology is actually an illustration of my story! (Yes, that made me unduly happy.) Other contributors to The Furry Future include Michael Payne, M.C.A. Hogarth, Mary E. Lowd, Alice Dryden and Mary Lowd. Both The Furry Future and "Tow" were nominated for the Ursa Major award.
Five Fortunes consists of five novellas from different authors, including "Going Concerns." The other novellas in the collection are from Phil Geusz, Renee Carter Hall (the Cóyotl-winning novella "Huntress"), Mary E. Lowd, and Bernard Doove.